Imagine a standard apartment building lobby. There is a leasing office, a seating area, and a place for marketing materials. There isn't anything special or inviting about this lobby. It is a basic space.
Imagine walking into another apartment lobby. There is an exquisitely designed leasing office and seating area. The marketing materials are still on display. However, this lobby has amazing pieces of art throughout the space. 3' x 7' brushed metal prints of iconic Baltimore sites fill the front of the lobby. As you leave, framed vintage restored images of the building line one wall of the hall. On the opposite wall, you see framed artistic photos of the building's architectural details. In the mail room and elevator hall, more artistic images of the architectural structure stand out on the walls.
In this lobby, a story is being told.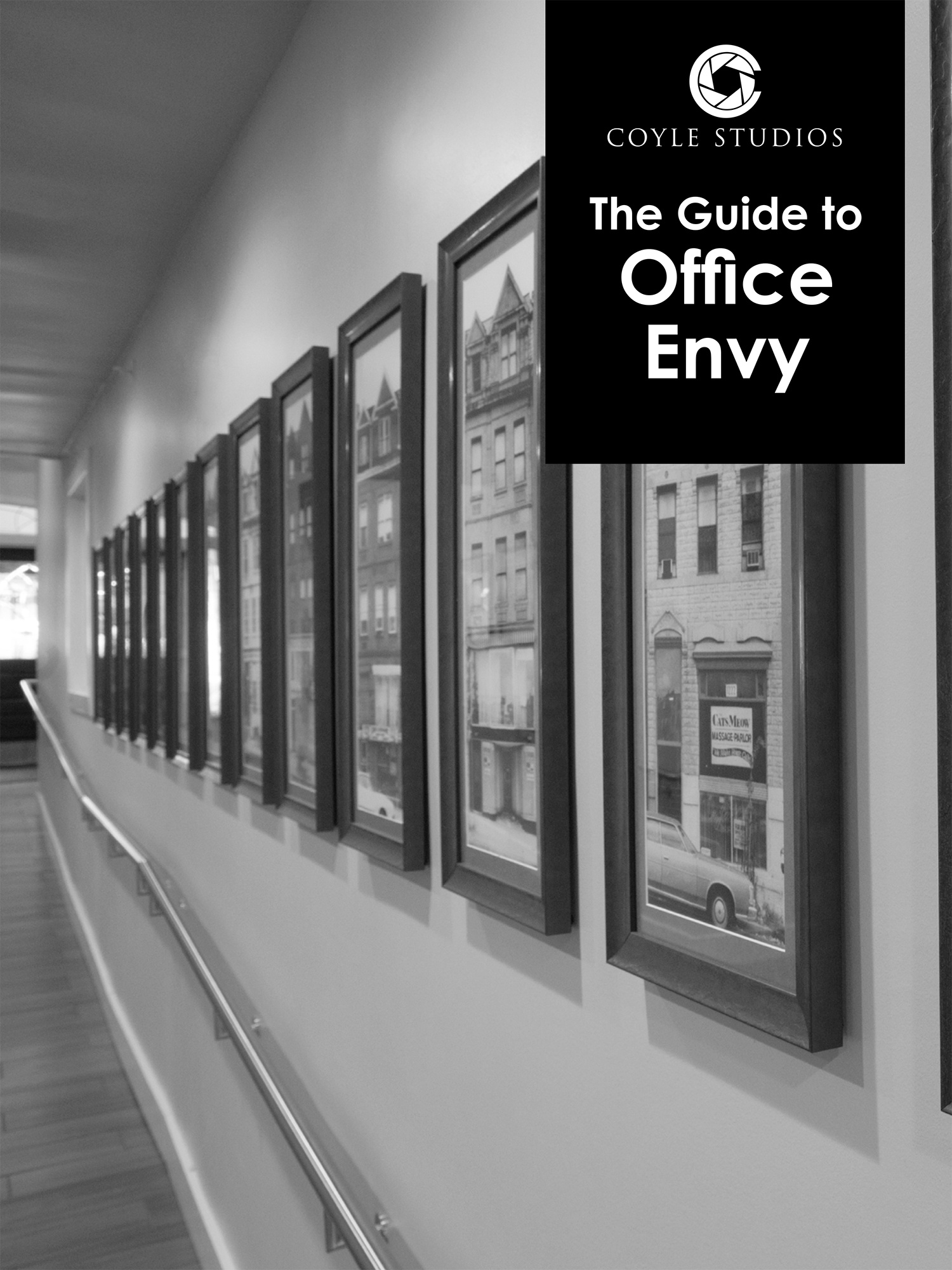 The Guide to Office Envy
Make your art work for you.
Deciding on artwork for an office can be intimidating. The team at Coyle Studios breaks down the art process and helps you realize that corporate artwork can be more than something pretty to look at. Use your art to engage with your employees and clients, and make a statement.
In this guide, you'll learn about:
How to achieve a visual goal
Types of corporate art
Tips to creating an impactful presentation
And more
I. Why Does Corporate Art and Framing Matter?

Depending on the person, a freshly painted, empty wall in an office can either be exciting or terrifying. An excited person would view this space as a unique opportunity to make a visual impact on the potential viewer - it just needs the right art. A terrified person would leave it empty or hang a piece of box-store art to fill the void.
Don't be the terrified person. Finding an impactful visual display isn't as hard as it seems. You may even have the art you need right at your fingertips.
Many people neglect to think outside-of-the-box for their corporate art because:
They feel they have nothing to frame.

They think it is too expensive to create and frame art.

They aren't sure of what they want on their walls.

They don't know what options are available.
These are issues that can be easily solved. Everyone has something to frame — a headshot, a magazine feature, a product photo. There is a base cost for custom framing, but it is only as expensive as you make it. It isn't hard to come up with an art strategy for your space, and we'll outline a number of display options.
Your corporate art should work for you, not against you. The art for the apartment lobby was created with intention. The owners wanted art that would reflect the building's history and location while working with the modern decor. They wanted a sophisticated display that would make potential tenants feel as though they were walking into a place that has a personal touch, not a fancy clubhouse with a giant logo. The art in this location helps differentiate them from their competitors while impressing potential and current tenants.
Having great corporate artwork can do more than differentiate you from your competitors. In a 2003 study conducted by the Business Committee for the Arts, Inc. (BCA) and the International Association for Professional Art Advisors (IAPPA) found that art in the workplace can:
Reduce stress in employees (78% agree)

Increase creativity and productivity (64% agree)

Encourage discussion and expression of opinions (77% agree)

Enhance the work environment (94% agree)

Help to build customer relations (65% yes)
In their article The inspirational power of arts on creativity, An and Youn found that displaying artwork in the office could inspire creativity and drive innovation. One study in particular discovered that "creativity induced through art" could "transfer to workplace environments through inspiration."
Installing compelling art in your business will not only help you differentiate you from your competition or create a conversation starter with clients and visitors. It will help engage employees and inspire creativity. In order to get there, you need to figure out your end goal — what do you want your art to say?
II. What Do You Want to Achieve?

Content is king in all aspects of business. In marketing, your content strategy is designed to educate clients, convey your corporate culture, and promote your product. In your office, your artwork should be doing the same thing. If it isn't, then you're wasting a valuable opportunity.
Impactful art should either:
Share a story.

Your corporate history is the easiest story to tell. However, there are other stories you can share. Product development, corporate culture, client and employee history, and more are all engaging aspects to depict.

Create a mood.

This ties back into your corporate culture. How should a client or an employee feel when they walk into a space? The ambiance of a doctor's office will be completely different from an engineering firm.

Send a message.

What do you want people to know when they walk into your office? This message will vary depending on if your target audience is your client or your employee.

Educate.

Using art to educate clients and employees helps generate credibility. Walls of degrees, publications, patents, campaigns, etc. are impressive, and they visually communicate your level of professionalism and success.
Before choosing art or framing, you need to evaluate your space. This means more than counting empty walls. Walk through your office as if it were your first time visiting. Look at your current art and the empty spaces. Does your current setup accurately reflect your company and its culture? What do you want your clients and employees to see and/or feel as they move through the office?
Evaluating your space allows you to see the holes in your visual strategy. Once you've figured out what is missing or needs to be replaced, you can start to think about what type of art you need to achieve your goals.
III. Types of Art

When people think of "types of art," they think of paintings, drawings, mixed media, photography, and more. Corporate art categories are a little different. Instead of grouping by the art medium, corporate art is sorted by the content theme. Each of these themes can fit in one or more core goals — Story, Mood, Message, Educate.
Achievements (Story, Message, Educate)
Achievements convey credibility and prestige. It is comforting to go into a doctor's or lawyer's office and see their wall of certificates. The absence of those degrees would make someone question the capabilities of that professional. Corporate awards and publications will demonstrate a desire for excellence. Ribbon cutting scissors and other milestone objects will commemorate those special corporate moments.
Examples include:
Degrees

Certificates
Publications/Articles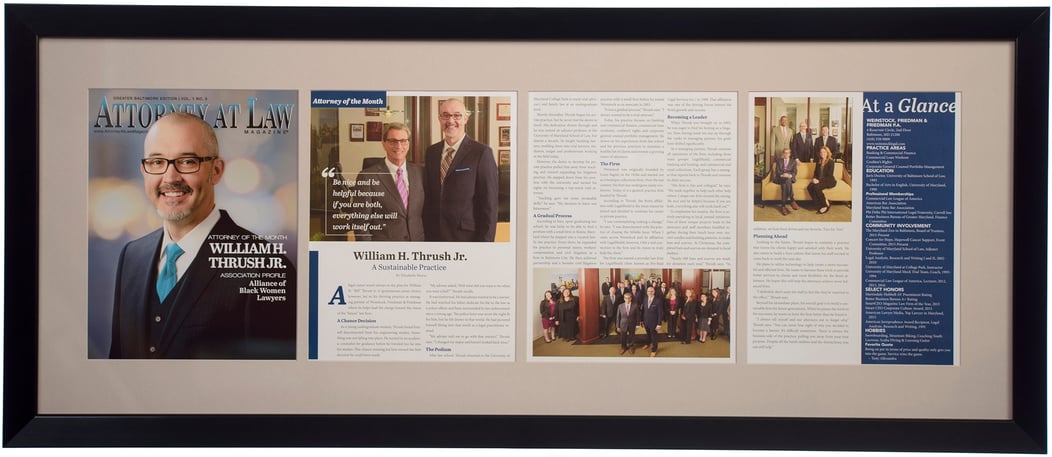 Letters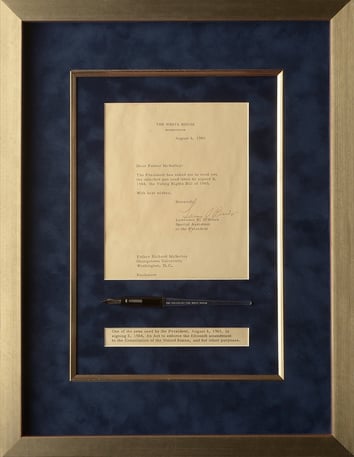 Awards/Honors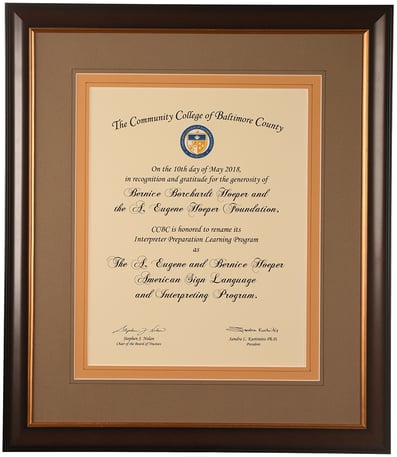 Milestone objects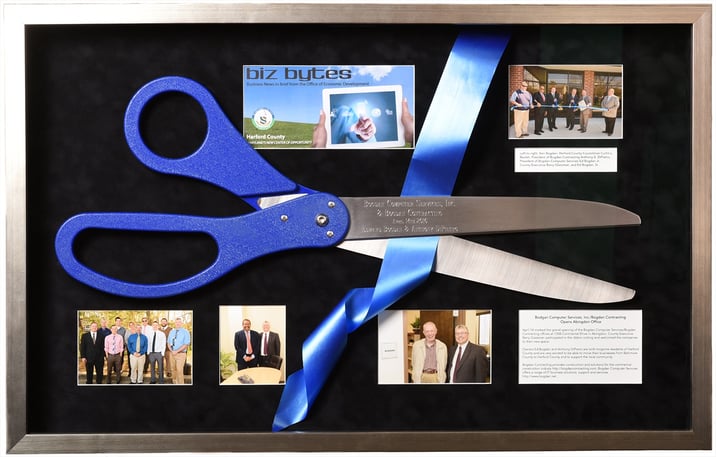 These pieces can be framed on one wall for an impressive display or throughout the office as accents.
History (Story, Message, Educate)
Use your corporate history to your advantage. Displaying portraits of the founders, press releases, or old signs suggest a corporate evolution and longevity in the market. We've seen clients frame correspondence from U.S presidents, snapshots with their famous clients, and various objects from their past. However, a history wall is not simply reserved for companies with decades under their belt. Start-ups can share their origin story and continue to add to their history wall as they grow and develop.
Examples include: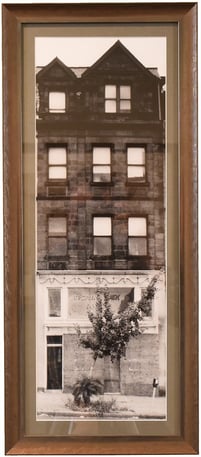 Previous campaign elements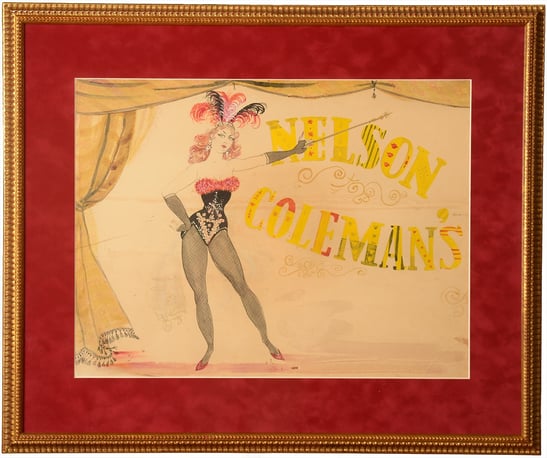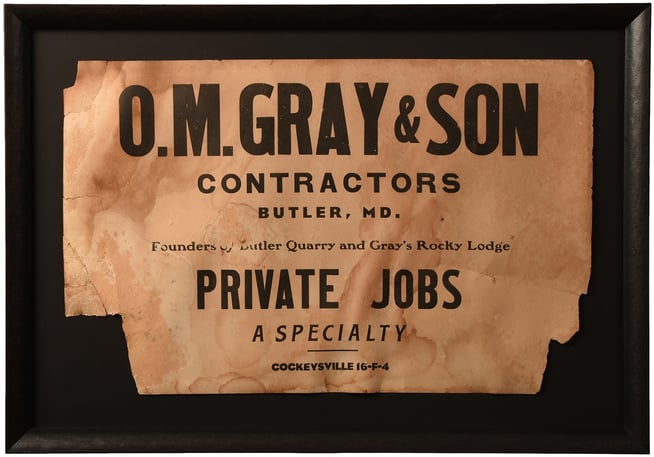 Objects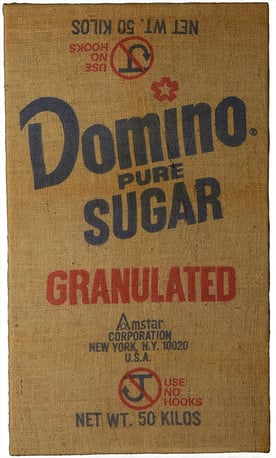 Paintings or photos of company founders, prior board members, etc.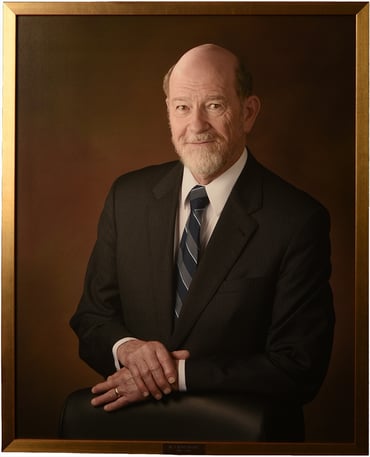 Letters
It is best to keep these pieces in the same place — a lobby, conference room wall, or hallway. A corporate history wall is a great conversation starter with clients and a way to engage with employees on a deeper level.
Location (Mood)
Location art is more than hanging a map that says "You are here." It's a big world out there, and you chose a specific location to live, work, and love. Show off your city or state pride by hanging art that reflects the location you love. You can incorporate fine art of a specific area or art created by local artists. You can hang objects or products that are beloved by town natives. If you have clients nationally or internationally, incorporate their areas into your space.
Examples Include:
City art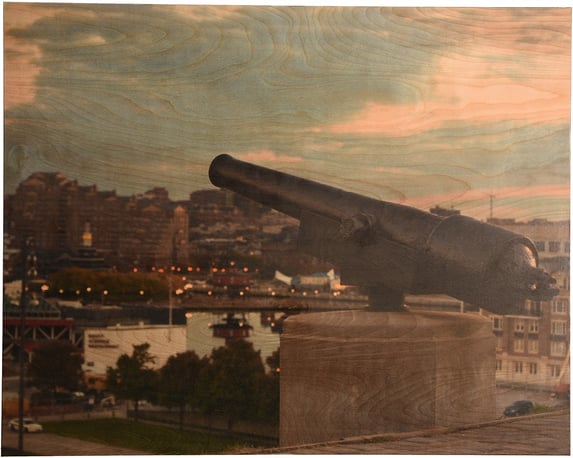 Local objects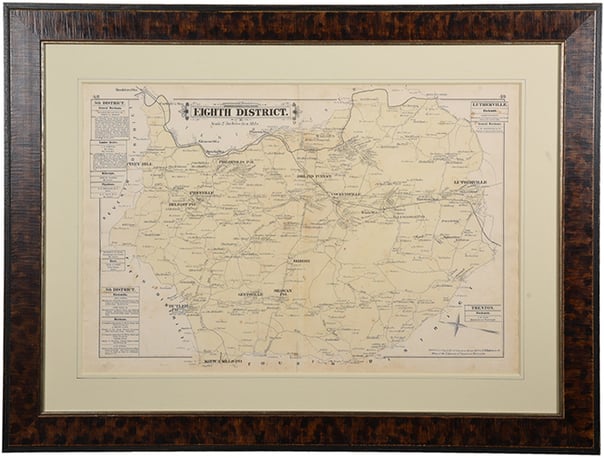 Art from local artists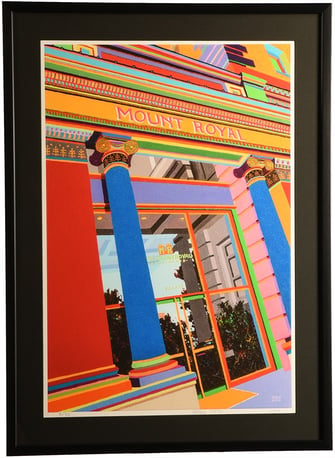 Products from local brands/partners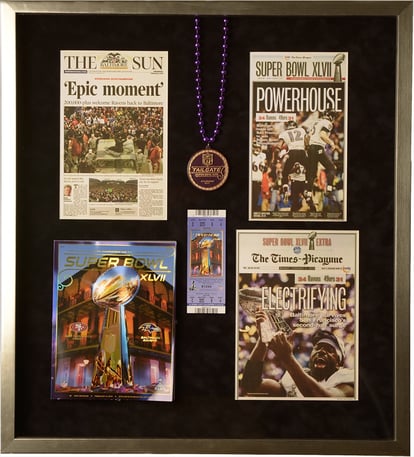 This art should help set the mood for an office and works well in lobbies, meeting areas, and hallways.
Product (Story, Educate)
Your product is essential to your business. Put it out there for people to see. Agencies love to hang examples of client jobs and award winning campaigns. Corporations building a product can display prototypes and patents of their product. Marketing photos or fine art photos of your product/service will always make sense in an office. You can even find historic photos of your product or service to hang in your office.
Examples include:
Marketing campaign elements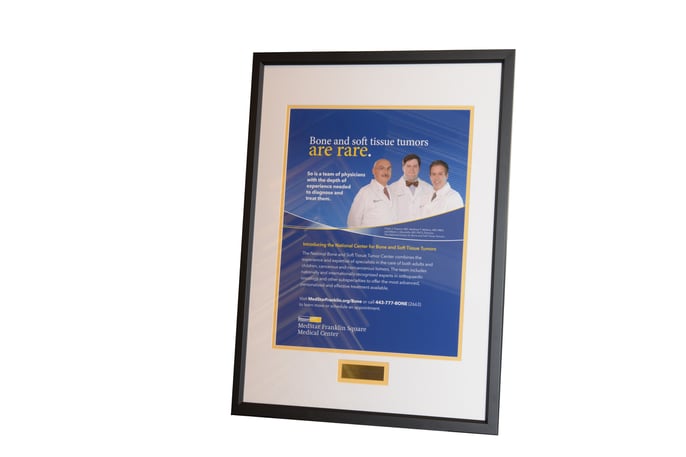 Photos (marketing and artistic)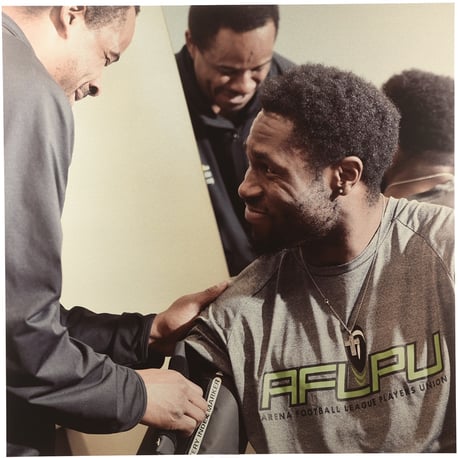 Objects

Client jobs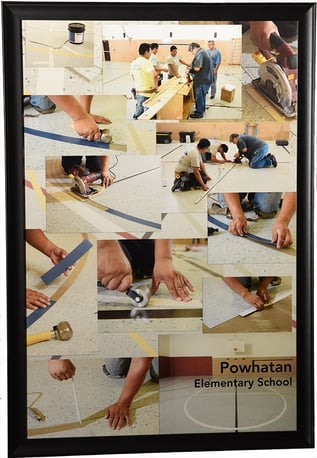 Example of product/logo evolution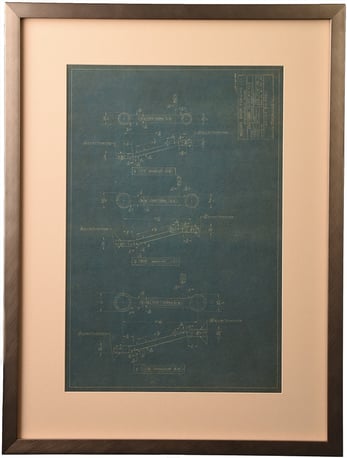 Historic photos that describes product/service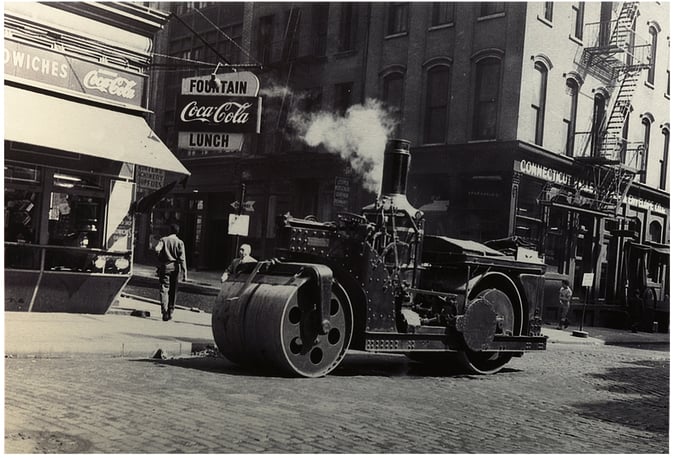 These pieces are extremely versatile. You can hang product art as a collection or use it as filler for spaces that only need one piece of art.
People (Mood, Message)
People are at the heart of your company. Employees, clients, volunteers, and more keep moving your business forward. Employee portrait walls, photos from conferences or outings, or hanging their achievements are easy ways to show your appreciation for those that work for you. Letters from the community and volunteer certificates show you're involved in the community.
Examples include:
Employee portraits and achievements; Board photos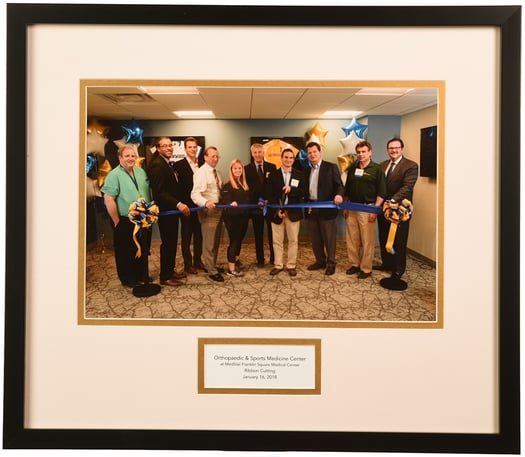 Employee engagement and team images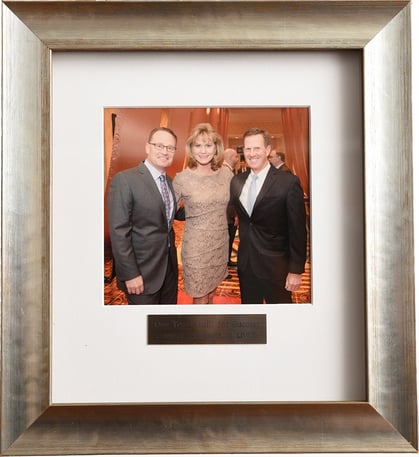 Client, donor, or recipient photos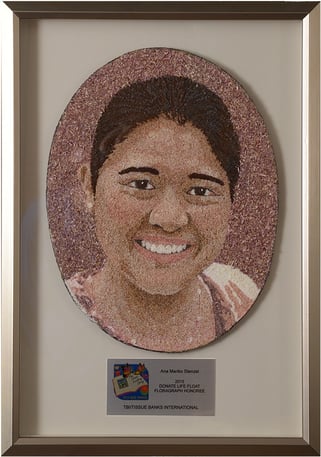 Community involvement objects or photos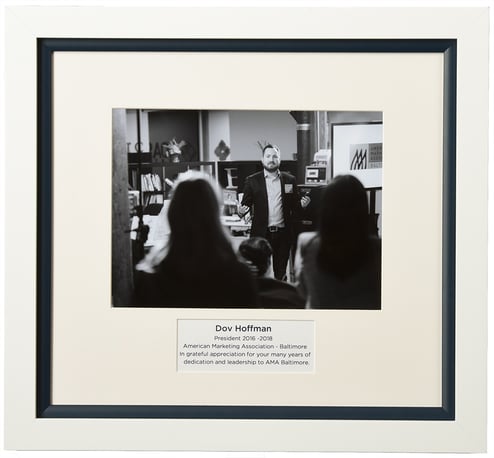 The goal here is to show the human side of your company. Hang these pieces where everyone will see them. Meeting rooms, break rooms, and hallways are all great places to show off your people.
Branded Elements (Mood, Message, Educate)
Incorporating branded elements into your art strategy can tie everything listed above together. Your achievements, history, location, product, and people all connect to one thing — your brand. Those elements humanize your company, and you should blend them with branded pieces of art.
Examples include:
Mission & Vision statement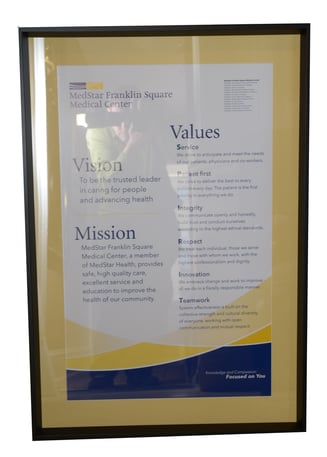 Signs/logos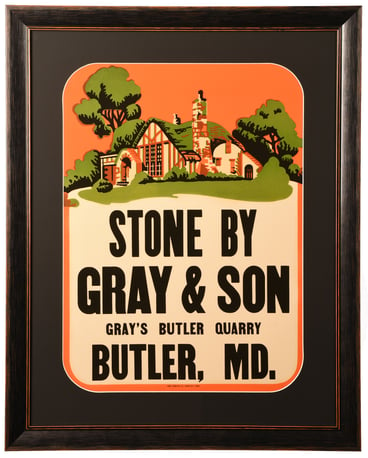 Art that incorporates logo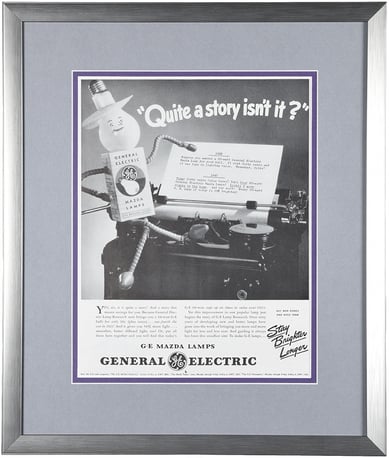 Inspirational quotes or mantras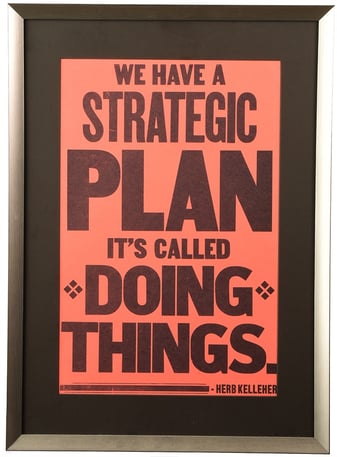 Branded objects
Depending on the statement you want to make, you can use these items as filler where needed or as large art displays to impact a space.
Offices should have a healthy balance of a few types of art. Keeping your goal in mind, look at the items you currently have and see what you may need to create to achieve success.
IV. Creating the Perfect Design

Having a brand new or renovated space is an amazing experience. (If you haven't experienced it, watch any home improvement show and come back.) But, that amazing space will not become a reality without planning and designing. You need to look at your current office layout, check out current trends and more.
Practical Thoughts
Before you get to the fun part, it is important to remember your office. What does it look like and where do you want to the art to hang? Here are a few essential items to remember when choosing art sizes and frames:
Placement — Hang the art where it will have the most impact. What spaces will your clients see? Where will the art bring the most joy to an employee? Don't hang the art where it will fill a space. Hang the art where it will make a difference.

Viewing distance — Smaller pieces should be seen up close and personal. Larger pieces need more space between the art and the viewer. For instance, a large piece may take up more space in a hallway and fill a wall, but it will be harder for a client to appreciate the art if the hallway is thin and doesn't give them enough space to view the art.

Lifespan — How long do you want the pieces to live on your walls? Do you intend on keeping the piece on your wall until you move or leave the company, or do you want the art to be fluid and change as needed?
Understanding placement, viewing distance, and lifespan will help you choose the right design for your space. There is nothing more heartbreaking than pouring your heart into a frame only to find out that it doesn't fit or work in a space.
Frame Trends
The "little black dress" of the framing world will always be the thin, black frame with a white mat. It's a safe option that works for most contemporary pieces. However, it is only popular because people either don't know what else is out there or they are afraid to do something different. Very few people stick with black frames once they try a new look.
Moulding companies have been thinking about the needs of the corporate world and have come up with a solution. There are various lines of classic wood tones in contemporary profiles and leather finishes that are designed to match common wood finishes used in offices. If you're a company that has a strong, traditional corporate office design, the wood frames would be an excellent alternative to a gold or a black and gold frame.
Another popular framing look has a very clean style. A white frame with a white mat is a favorite among designers right now. Colorful pieces of art and high contrast pieces can stand out in the simple tone-on-tone design. Choose a high-gloss or matte finish and let the artwork speak for itself.
For the modern office looking to make a statement, explore industrial frames. These frames have an elemental feel to them. The finishes are pulled from an earth tone palette — metal veneers, iron, and bronze coloring. The moulding is usually designed with strong lines and can sometimes have an industrial texture to the finish. Industrial moulding is a versatile frame that will work with anything from historic images to textiles to modern portraits and more.
If you want to be ahead of the curve, explore acrylic frames. These are usually a little pricier, but they are unique. The frames are highly customizable with patterns, coloring, size, and more. For those looking for a unique branding opportunity, create an acrylic frame using your unique brand colors or create a design with your logo. Acrylic frames allow you to be incredibly creative with your framing designs.
You can also get creative with your branded colors with matting. Double matting and French lines with corporate colors can pull a piece together and elevate it from average to outstanding.
Of course, there are many, many different frame and matting options available to match any style or design. But, what should you do if you don't want to frame something or want to have a different, cleaner look?
Alternative Displays
It used to be that if you didn't want a piece framed, you had your photos printed on canvas. Canvas prints are a thing of the past. Compared to the options available today, they look cheap and ordinary. If you don't want to frame your art, you have better and longer-lasting options available to you today.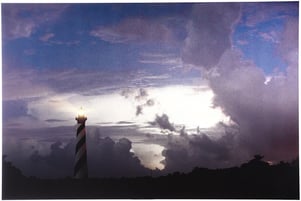 Metal prints are a fantastic alternative to custom framing. You can choose standard sizes or create something custom. (Remember the metal panels we mentioned earlier? They were 36"x84" — not standard at all.) These prints are lightweight and sturdy enough to hang in almost every environment.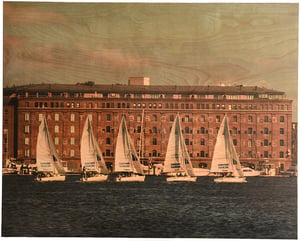 Wood prints are another alternative option. You can choose whether you want the wood grain to show through the print or not. It isn't as easy to customize wood print sizes. You'll mostly be limited to standard photo sizing up to a certain depth and length.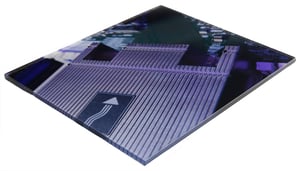 Acrylic and bamboo prints are two other options, but they aren't always the most popular. Acrylic prints tend a little more expensive than metal and wood. It's also easier to scratch or damage acrylic. If you have a cleaning crew that uses the wrong cleaner on the surface, you'll end up with an unpleasant film on the surface of the acrylic. Bamboo prints can help check a box off for environmentally friendly offices because the bamboo is FSC certified. (If you're looking for FSC certified options, there are also a number of frame mouldings that will meet those requirements.)
When executed properly, a custom framed piece or alternative art display can be gorgeous and highly impactful. More display options become available annually. Experts keep up with these trends.
It isn't always important to stay "trendy." Remember to evaluate your art and the longevity of the piece. It may be more important to frame for the art rather than the room. Spaces change, but the art may not.
V. Tips

Start the process early. Choosing art and framing always takes longer than expected. Designs change. People will share decision-altering opinions. As soon as you think you need new art, start exploring options.
Designate an internal project manager. One person needs to be both the contact person for your vendor and the one who imposes internal deadlines. It is easy to let the artwork sit on the back burner while you take care of clients, projects, and other aspects of your job. If you're serious about your new art and framing project, find someone to help you make it happen.
Look at the big picture. A gallery wall can often start with one piece of art that begs to be built around it. Look at your space, find your goal, and think about the impact that one piece of art can have in your environment.
Embrace the weird. Sometimes, the weirdest art and objects are the most special pieces of art. A client once asked us to create a shadow box using a camera, cotton, seeds, sugar cane, and more. It was a gift to one of the corporate executives and incorporated his passion (photography) with the products of their company. The end result was impressive and a one-of-a-kind corporate gift.
Be open-minded. It is easy to get stuck into thinking about what everyone else is doing or to choose a design you see online. If you are open-minded or surround yourself with out-of-the-box thinkers, you'll be surprised at how dynamic your art and framing can get.
Use archival materials. "Archival" is not synonymous with "expensive." Acid-free materials and proper framing seals are important for any piece of art.
Use a professional installer. If you do not have a maintenance person you love and trust, hire a professional art installer. Seriously. It isn't that expensive to hire someone, and it will be completely worth it. We've seen maintenance people do disgusting things to walls, frames, and glass while they're trying to slap it on the wall.
Have fun. Most lists end this way, but art should bring you joy. It should make you feel something and make your proud to walk into your office. If your art isn't making you, your team, or your clients happy, then it is time to replace it.