Something Powerful
Tell The Reader More
The headline and subheader tells us what you're offering, and the form header closes the deal. Over here you can explain why your offer is so great it's worth filling out a form for.
Remember:
Bullets are great
For spelling out benefits and
Turning visitors into leads.
Free E-Book: the guide to office envy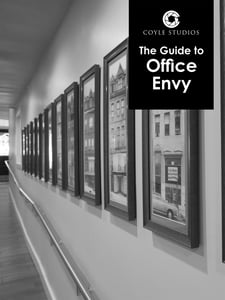 Your art should work for you - not against you.
Content is king in all aspects of business, and your office is no exception. It is underwhelming to walk into an office that has dated, faded works of art hanging in a lobby or seeing degrees slowly fall apart in their frames. Your art should make a visual impact on everyone that steps into your office.
Choosing the right art for your office can be daunting, but it doesn't have to be. You may even have the art you need at your fingertips. In this guide, the team at Coyle Studios breaks down the art process and explains why it is important to have art that engages with employees and clients while staying true to your brand.
In this book, you'll be able to:
Learn about types of art
See examples of engaging corporate framing
Learn how to achieve your visual goals
Get professional tips to make the framing process run smoothly
Download now!